SEAGULL Photo Exhibition x-byrd + JIGUAI
2019.7.11(Thu)~7.16(Tue) 12:00 ~ 20:00、By 17:00 on the last day
2019.7.11 18:00 Opening Party
What is the SEAGULL?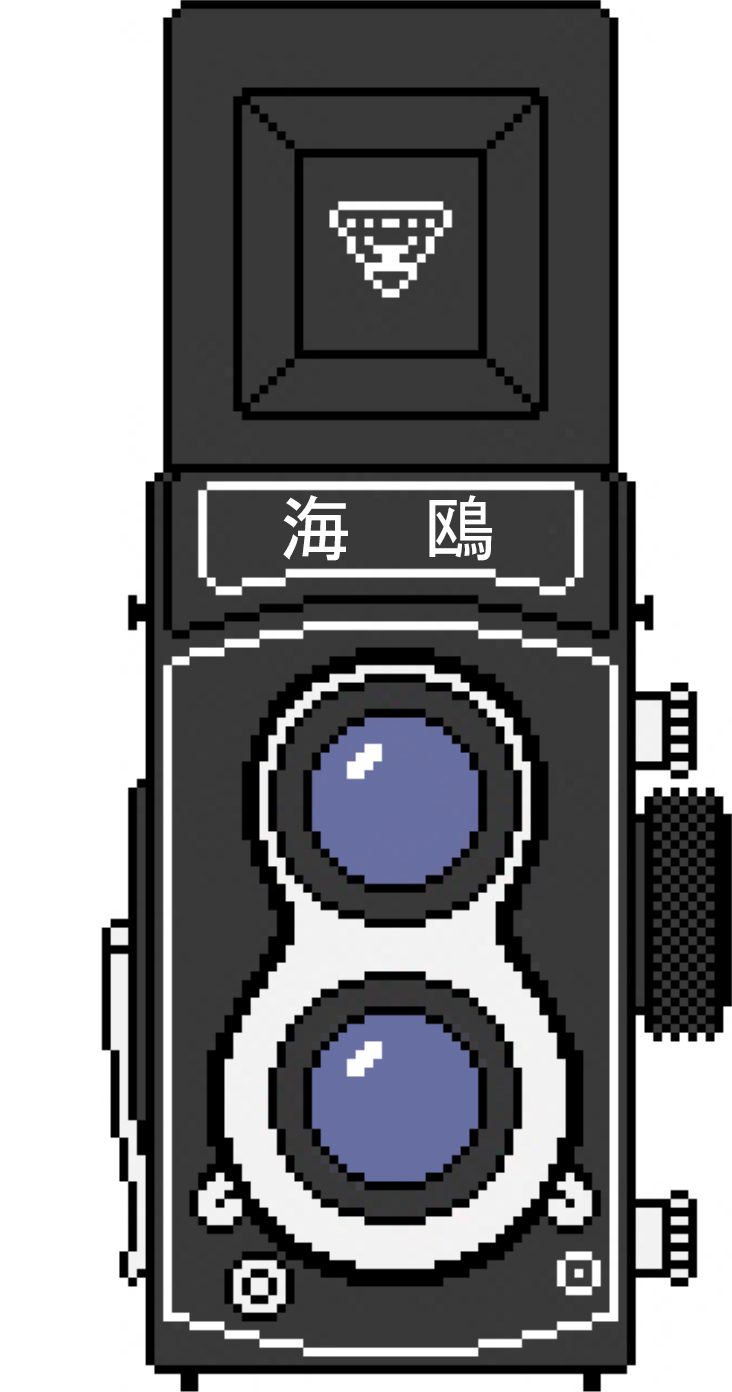 Born in Shanghai, China in the 1960s, this camera was well known until the late 1980s. 
The most representative of these is the 4A series, which is mainly used for shooting in our exhibited works. When the first "Seagull Exhibition" was held at Shinjuku GANKA Gallery in 2007, the production lines of "SEAGULL" as European model for overseas has been remained in Shanghai, China. The sales system (A-Power Inc.) has been secured in Japan as well. 
If the reason for popular in China until the 1980s was reasonable price caused of making crudely, the reason for popular among some silver halide camera fans in Japan is adoption of the KANJI emblem on the SEAGULL, which is rare in the camera world.
Artists profile
x-byrd
2018 『Yacht /Sailors』@OSAKA NIKON Salon
2016 Solo exhibition『Selfie 』in Florence, Italy
   『6:CODE』Exibition@DESIGN FESTA GALLERY, Tokyo
2015 Solo exhibition『Selfie』@Golden child café, Aichi
2014 『Photo Session#2』@PI Gallery, Aichi
2012 Phone Photo&Graph Exhibition@GALLERY9, Kyoto
2008 Solo exhibition @Gallery Niú Xīn in Shanghai, China
2007 『SEAGULL EXHIBITION』@Shinjuku GANKA Gallery, Tokyo
2006 Photo exhibition『S.O.S』@GALLERY LE DECO, Tokyo
   『Vector Space』Map of 9 People @ Roonee 247 Fine Arts, Tokyo
Solo exhibition『What connects space-time and memory』
@Kingyo Café, Tokyo
   『Esquire Digital Photograph Awards'05-'06』Awards Exhibition@Daikanyama, Tokyo
   『Photo exhibition starting from zero』 zero+@DESIGN FESTA GALLERY, Tokyo
 〜Current Textbook Cover( the project of EDUCA & QUEST)


Personal Site
Facebook Page
 
JIGUAI
2019 Establish GALLERY 2511
2017 Exhibit work at GRAPHIC DESIGN IN JAPAN 2017
    Lecture on art enlightenment
2015~ Planning of children's drawing workshop
    A member of Japan Graphic Designers Association (JAGDA)
2014 Exhibit work in HEISEN TEN Painting Department@NATIONAL ART CENTER, Tokyo
2010 Establish Zero3 Co., Ltd.
2009 A member of Japan-China Photo Culture Exchange Association
    Exhibit at Embassy of Japan in China Exhibition
2007 Plan for SEAGILL Exhibition@Shinjuku GANKA Gallery, Tokyo
2006~ Established and operated a seagull community on various SNS
    mixi、Flickr、fotologue、GREE、ZORG
2001~ Work as Graphic Designer, Art Derector
1996~ Work for Performing arts
1991~ Study at Faculty of Fine Arts, Jilin College of the Arts, China
1985~ Study for Introduction to photography with a seagull twin-lens reflex camera

Personal Site
Facebook
instagram
Exhibition scenery